Back
Hong Kong International Black Box Festival: post / HKRep "Oedipus Schmoedipus" (Australia/ Hong Kong)
HKRep Black Box (8/F Sheung Wan Civic Centre)

26.10.2018 - 29.10.2018
A comic bloodbath about a fate that none of us can escape


Oedipus Schmoedipus is a joyful, dark, irreverent, hilarious and confronting performance about death: real death, fake death, and death as portrayed in world's great theatre classics.

Resurrecting multiple murders andsuicides, Zoë Coombs Marr and Mish Grigor – from the provocative Australian collective post – pile up classic dramatic death scenes into an accessible, fun-filled, engaging new spectacle with plenty of blood and gore. For each performance's mammoth bloodbath, the two artists benlist HKRep actors ManMan Kwok and Man Sui Hing and a cast of 25 local volunteers to join them in the comic lament and slaughter. Straddling live art, theatre and contemporary performance, Oedipus Schmoedipus has had audiences around the world in stitches and in tears. Cunningly and cleverly carried off, Oedipus Schmoedipus is a democratic theatrical extravaganza 2,500 years in the making.
"Oedipus Schmoedipus pushes towards some fundamental truth about why we watch theatre at all, staving off our own mortality with a moment of togetherness."
— Sydney Morning Herald
Workshop: Personal Pastiche with post
Co-presentation

Co-commissioned with HKRep & West Kowloon

Co-produced with
Intimate Spectacle is supported by the Australian Government through the Australia Council for the Arts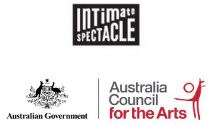 Audio Visual Sponsor

Media Sponsor

Performance Date & Venue
HKRep Black Box (8/F Sheung Wan Civic Centre)

8pm 26* – 27, 29.10.2018
4pm 27.10.2018
5pm 28.10.2018

$300
*With post-performance talk
Free Seating
Presented in Cantonese with English surtitles
This programme contains scenes of violence, strong lighting effects and strong language
Recommended for ages 12 and above
Approximately 1 hour 15 minutes without intermission
No admission for latecomers
Please contact HKRep before purchasing tickets if wheelchair seats are required. (Tel: 3103-5900)
Ticketing Info
Ticket Discounts
50% discount for
Full-time Students (limited offer)
Senior Citizens aged 60 or above (limited offer)
People with disabilities & the minder. For purchase of each concessionary ticket for people with disabilities, the customer can purchase one ticket of same concession for a minder.
15% discount for
HKRep Pals members
Staff of West Kowloon Cultural District Authority
10% discount for
Members of CCDC Dance Inspirations
Club Bravo members of Hong Kong Philharmonic Orchestra
Zuni's Friends
Friends of The Hong Kong Ballet
10% discount for (Discounts only available at URBTIX outlets upon presentation of valid membership / staff cards)

Friends of Hong Kong Chinese Orchestra
Friends of Hong Kong Dance Company
Chung Ying Theatre "Energy Fun Club plus" (max 2 tickets)
Members of HKAPA Alumni Association
Members of Hong Kong Chinese Civil Servant's Association
FANCL Club Members
Staff of Shun Hing Group
Bookaholic Members of The Commercial Press
Tom Lee "Music For Life" Members
Members of Hong Kong Arts Administrators Association
Members or Staff of Broadway Photo Supply Limited
Tickets now available at URBTIX
Ticketing Enquiries: 3761 6661
Credit Card Booking: 2111 5999
Online Booking:
www.urbtix.hk
Programme Enquiries: 3103 5900
Cast & Production Team
Playwrights
post (Zoë Coombs Marr, Mish Grigor & Natalie Rose) after Aeschylus, Anon, Barrie, Behn, Boucicault, Büchner, Chekhov, Euripides, Gogol, Goldsmith, Gorky, Hugo, Ibsen, Jonson, Marlowe, Mayakovsky, Molière, Pirandello, Plautus, Racine, Seneca, Shakespeare, and many, many more
Translation & Adaptation (HK)
Pat To Yan
Directors
Zoë Coombs Marr
Mish Grigor
Cast
ManMan Kwok
Man Sui Hing
25 local volunteers per performance date

Original Composer & Sound Design
James Brown
Sound Design (HK)
Wan San Hong
Set & Costume Design
Robert Cousins
Original Lighting Design
Matthew Marshall
Ross Graham
Lighting Design (HK)
Mousey Tse
Dramaturg
Anne-Louise Sarks
Original Fight Director
Scott Witt
Fight Director (HK)
Guthrie Yip